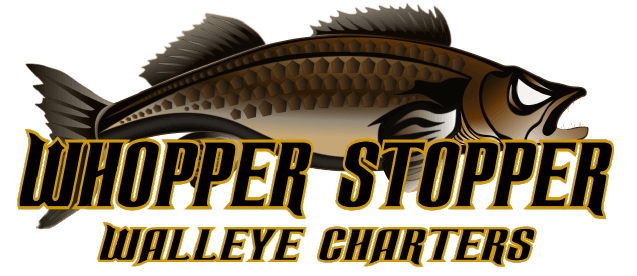 Walleye Fishing On The Detroit River
Whopper Stoppers Walleye season starts in April and runs through May.  Detroit River walleye are commonly in the 3-6 pound class and trophy size walleye can reach occasionally over 10 pounds plus.  Join Whopper Stopper Walleye Wacker's for a world class walleye factory excursion down Detroit Rivers historical landmarks and fishing hot spots!  You will be sure to love the BIG BAGS of delicious fresh walleye that you get to take home and enjoy!
$450 for 3 people for 5 hrs ……additional person $100
$600 for 3 people for 8 hrs……additional person $100
TRIP DETAILS:
Multiple boats are available for larger groups. Early notice is recommended.
Fish Cleaning………. $10 per limit cleaned
Both licenses are generally required as we fish both sides often. Direct link to licenses are below.
Walleye Limits vary from year to year as both Michigan and Canada resource management try to protect the resource.  
No culling fish after boat limit has been achieved as we must be protective of our resource.  But we can catch and release fish.
All Charters include:
the best rods and reels

minnows (if needed)

lures and all other tackle
Once your date is booked call a few days in advance to check on weather forecast. We fish in everything but dangerous winds.
Kam Marine…9666 East Jefferson, Detroit, MI
Walleye boat dock  is located at 9666 East Jefferson Ave, Detroit, Whopper Stopper Walleye Wacker's Marina is located downtown.  Our Marina is safe with gated close parking, and is a perfect opportunity for you to explore downtown Detroit's fantastic entertainment and lodging.  Such as, Pro Sporting Events, Restaurants, Casinos, Comedy Clubs, Museums and Nightlife. 
Or you can stay just North of the city - Please see the lodging tab for recommended locations: LODGING 
Reservations & Cancelations 
A $200 deposit is required for all charter reservations per day.
Deposits are 100% refundable up to 21 days prior to the booked date.
This includes charters which are canceled by Captain due to weather conditions. (generally heavy wind)
One day fishing licenses are usually bought 1 week in advance.
**** Whopper stopper Charters takes Credit Card, PayPal ( fatmuzkey@yahoo.com) or just send us a check to:
53289 Baker Rd. Chesterfield, MI. 48047
**** Reminder if your wondering about Tips ....they are very much appreciated.
**** Prices are dock to dock. Please be prompt  as sometimes we may have double Charters or have family obligations. The start time is the start time.
All payments are due at the end of the trip.  Multiple day trips as well.
What To Bring on My Charter
Michigan Harbor Marina

24600 Jefferson Ave,

St. Clair Shores, MI
9666 East Jefferson Ave.

Detroit, MI